---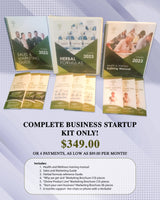 Includes:

1. Health and wellness training manual
2. Sales and Marketing guide
3. Herbal formula reference guide
4. "Why we get sick" marketing brochure 10 pieces
5. "Divine product line" marketing  brochure 10 pieces
6. "Start your own business" marketing  brochure 8 pieces
7. Six months support live chats or phone with Herbalist
Descriptions
Health and Wellness Training manual (1)
 This  manual was developed after 25 years of research, development, and experience. This training gives the beginner a basic understanding of modern disease, causes and the natural solutions. This  will help the consultants better understand the health needs of their customers. Over 100 pages that cover why people are getting sick,  like the toxins in our food, water, and air. Review of body systems and related disorders.  Its covers prescription drugs and how they affect overall health. It covers many of  the natural solutions to today's health problems. A great fundamental training in natural healing methods. ,
Sales and Marketing Manual: (1)

 
This manual comes  from 18 year of sales and marketing experience in fortune 500 companies. It covers the fundamentals of sales, marketing training and their basic applications. This manual is for the person who has no sales knowledge. It  starts by taking you through the sales process, from identifying potential customers,  to getting the order. Not only is salesmanship covered  but office organization, time programs, goal setting and much more. It not only shows  you how to sell, but what is the mindset of great salespeople. Remember, nothing happens in a company until a sale is made. These instructions are invaluable to anyone starting a company. 
Herbal formula Manual: (1) 
This manual is an overview of the formulas in our product line. This manual shows the user how, when, why, where to use the products and when not to use the products. Product knowledge is key to a successful consulting business. It is designed to be a quick and handy reference guide. This ensures the consultants know and recommend the best solution for their customers. It can be easily carried to meeting with potential customers for quick and accurate answers and solutions. 
Marketing Brochure " Why we get sick" (10 pieces)
 This brochure is a marketing material to be given to customers to educate them. An educated customer is the best customer. Customers want to understand what is making them sick. Modern medicine is not providing accurate information on what is causing the increases  in the number of sick people. This brochure covers some of  the main reasons for illnesses today. It covers toxic overload from toxins from our food, water, air and ground. Weaken Immune system, nutritional deficiencies, Stress, and electromagnetic energy 
Marketing Brochure "Product Line" (10 pieces) 
In color with a picture of the product lines on the cover,  this educational brochure covers the most popular products we carry. This handout has a brief description of each product's benefits to the customer. This will help your customer understand the benefit of the product you are recommending, as well see others products they may  want to add to the sale. An educated customer is the best customer, this brochure shows your customer's solution to health problems they may have.
 This brochure can also be given out to prospects who are not ready to make a purchase right then. Think of this and other marketing material as seeds you plant to get a harvest later. Some of these handouts will sprout into sales down the line.
 For the prospect's future reference there is a section on the back to place your name and number or just staple your business card to it. Some customers will use this to get back in touch with you when they are ready to buy. Handing out these brochures is a great way of building up a pipeline of potential customers
Marketing Brochure" Business Opportunity" (7 pieces)
 This brochure is for prospective persons who might want to join you in business. This is not network marketing, but a platform where people can work together for a common goal and shared interest. This brochure covers such topics as income and market  potential, coming trends in Wellness and home base businesses. It looks at our comprehensive training which ensures their success ,as well as, the life changing benefits of owning your own business. 
Live support from Master Herbalist with combined experience over 75 years. You will talk directly or chat with our herbalist to answer questions you may have. This is a very useful service to help start your own consulting business. You will  own your business, but not be alone with our support team backing you up every step of the way.
Extra** standard  business cards can be added for a small fee!