---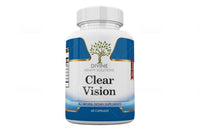 Sale
A synergistic blend of herbs to promote eye health. The eyes are probably the most important organ connected to our senses. We use our eyes everyday to perform tasks with our bodies, they are windows to the world around us. Many vitamins and nutrients that 
help prevent eye disease are not found in our modern day food supply. That is why taking supplements for eye health is so important. 
The herbs in this formula have been studied and have shown to  be a help in these eye conditions: 
Macular Degeneration 

Night Blindness 

Glaucoma 

Poor Vision 

Diabetic Retinopathy 

Cataracts 
This formula is not a cure for these conditions, however the ingredients are shown to help in these conditions in clinical studies. This formula is filled with important nutrients for eye health that may not be available in our diets.  So, start today and see improvement in your overall vision in a short amount of time, with Clear Vision!
A good overall healthy diet is very important in eyesight. Dosage: Take two capsulas, twice a day to start. For maintenance take two capsules once a day. 
Warning: Do use this compound during pregnancy.