---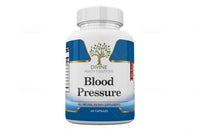 Sale
The Blood pressure formula is designed for mild to moderate hypotension. The herbs in this formula exert a hypotensive (blood pressure lowering) influence and in time exhibit an anti-atherosclerotic influence through the absorption of arterial plaque from the walls of the arteries leading to and from the heart.
Use this formula in the treatment of essential hypertension, high blood pressure, vascular fragility, and cardiac distress. May also be useful with associated conditions such as arteriosclerosis and high cholesterol.
Note: In case of severe hypertension, the person should be under a doctor's care and may have to take prescription medication until their blood pressure reaches moderate levels.
Suggested Usage: Take two capsules twice a day. Two can be taken in the morning and two a night.  For best results this formula should be taken for 5 to 6 months. 
Contraindications: Do not take this formula with Blood pressure lowering medications.